From / To Nothing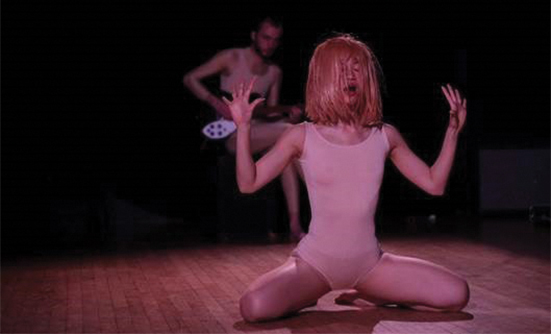 Next Event
Sat, June 15, 2019 | 2:00 pm, 4:30 pm
From / To Nothing
Center for Collaborative Arts & Media
Leeds Studio
149 York Street, New Haven, CT
In From / To Nothing , Sarah Xiao and Liam Bellman-Sharpe push the boundaries of form and their own disciplines. By combining dance, movement, electronic composition, found text, opera singing, objects, poetry-never-intended-to-be-read-aloud, live vocal looping, technology, and their sheer trust in each other as performers, they will create a work that vacillates between sparse and oversaturated, and questions the ways we make and interpret meaning as performers and audiences.

Performances are approximately 45 minutes in length. Space is limited to 40. Reservations recommended.

Learn more by visiting artidea.org/YaleChina2019


Catching up with Arts Fellow Sarah Xiao
Sarah arrived in New Haven not knowing what to expect from her time here in the U.S. and at Yale. She was at first concerned that her Yale classes would be repetitions of what she had already learned. Instead, she was energized by the rigorous discussions between her professors and her open-minded and thoughtful classmates. Being at Yale also gave her the opportunity to engage in collaborations with other "artists", including graphic designers, musicians, and composers. Now, near the end of her fellowship, she has found the transition from her initial uncertainty to her confidence in her final project to be "absolutely delightful".

Sarah shared that her time here taught her that curiosity and receptivity to new ideas are beneficial to all in the creative process, that new avenues of creativity often result from inevitable failures, and that art and life are intertwined such that one's life experiences naturally inspire one's artwork. Her collaborations with other artists also opened up her view of dance. She explained that she is now interested in "something definitely beyond just movement…. At this point, I am not satisfied with just contemporary dance; I loved learning different methods to discover new things in creative settings."

In collaboration with Liam-Bellman Sharpe, a sound design student at Yale's School of Drama, Sarah will present From/To Nothing at the New Haven Arts & Ideas Festival. This 45-minute experimental piece incorporates both improvised and prepared elements of dance, movement, music, opera singing, found text, "poetry never-intended-to-be-read-aloud", and live vocal looping that Sarah and Liam change at whim from performance to performance. This deliberate cultivating and spontaneous improvisation of elements result in a work that is at once controlled and uncontrolled, freely repurposed and reimagined. Such fluidity in their performance challenges the ways in which Sarah, Liam, and their audience create and interpret meaning for each other.

Sarah believes that art should be accessible to everyone. Towards that end, she hopes to share her experience of sharing ideas without the fear of failure with her Hong Kong community at home so that they can participate in the creative dance process with this mindset. Discovering her role as a female Chinese artist, she plans to continue her exploration of connections between the mind, the body, and people.
Join us for the Festival!
Yale-China Arts Fellows and HKETO-NY Arts Activators will be at the 24th International Festival of Arts & Ideas! Don't miss it!